VOIP phone systems HP laptops and Ipads
Phil Biundo
VoIP phone systems
Next step is to pick out what you want and email me.
VoIP phone systems
We are looking to sell used VoIP phone systems and related equipment? What type of used VoIP (Voice-over-Internet protocol) technology. As experienced IT liquidators, we are volume buyers of used VoIP phones and equipment, as well as many other types of excess IT equipment.
VOIP POLYCOM VVX and more New and Grade A lot + QTY in Stock
asking $6000 or best offer take all. Download Spreadsheet
180+ QTY in Stock
HP ELITEBOOK 840 G1, I5, 1.90, 4GB, 128GB SSD,
Grade B- worn keyboards and cases
150 USD or 25k for the lot
500+ QTY in Stock Apple Ipad air lot 55k USD or best offer Download Spreadsheet
700+ QTY in Stock USDT Tiny Pro Fanless Computer Learn More 35.00 USD Learn more here
117+ QTY A-Grade only list Laptops HP – Probooks, Elitebook and G2 Laptops Download Spreadsheet
1200+ HP, DELL, All in One, Elitedesk, Prodesk, Optiplex, Thinkcentre & More! Download Spreadsheet
30+ Surface Pro 3 4 and 5 INTEL CORE I5 Gen 6 and 7 Take a look some new ones. Download Spreadsheet
Call or email with any questions. Hope to hear from you soon.
Terms & Conditions
• Prices are in US$
• 30-day warranty
• Buyer is responsible for transportation
• Payment via wire transfer
• 3% PayPal Fees
• Lots are sold as per list
• Sold on first come basis
USA Warehouse:
14125 Simone Drive
Shelby Township Michigan 48315
I don't want to be taken advantage of anymore, take me to the Filmar IT pricing tool. Start boosting your margins and make more money!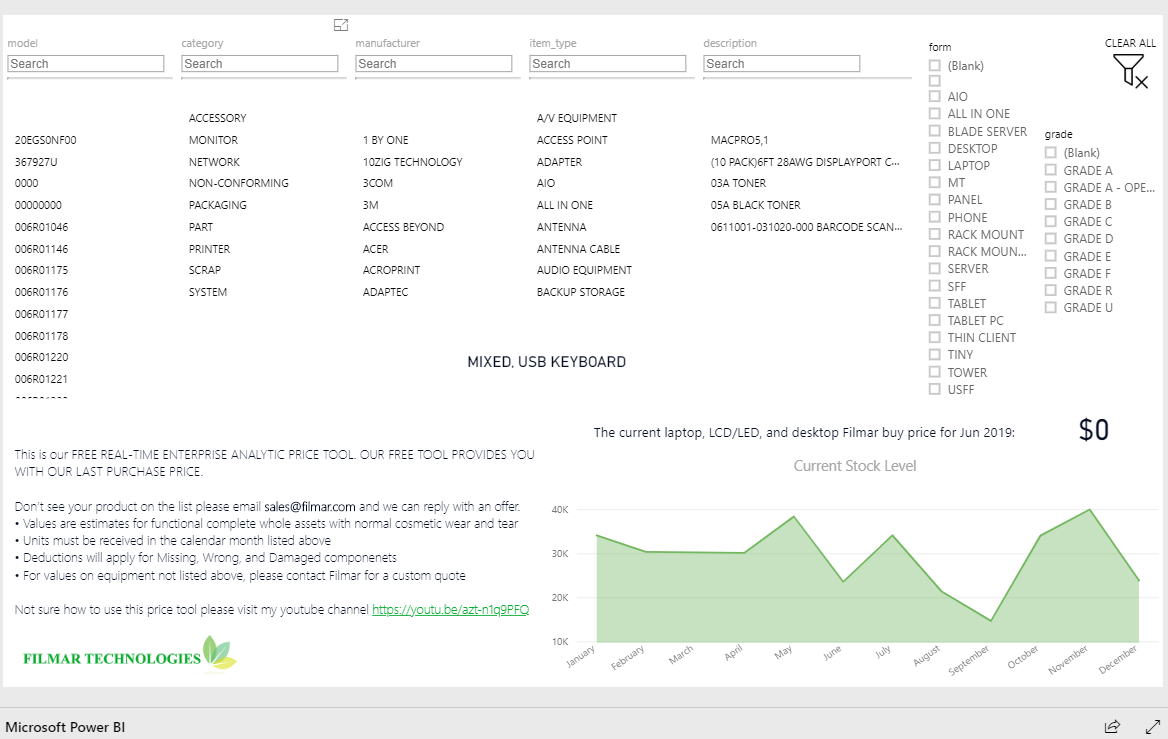 Here is some contact info and questions:
For more information or for inquiries of any kind, please call (586) 580-2524 or email hello@filmar.com.
This week only if you sign up now and get on my email mailing list I will give you Three of our Best IT Price Tracking Tools. https://filmar.com/inventory-sign-up/
learn more about Filmar Technologies by going to our story page here.
To learn more about IT Asset Disposition (ITAD) business Check Out our LinkedIn in page https://www.linkedin.com/in/filmar/
Thank you