Why Reuse Computer Equipment Instead of Recycle?
Phil Biundo
Increasing the awareness of "reuse" amongst businesses and institutions is crucial. The reuse of IT equipment stops the extraction of new raw materials and also reduces the amount of dangerous materials being dumped in landfills. The main problem is that loads of components are deemed "useless" and this has created a negative impact on businesses and the environment. The fact is that a majority of IT equipment which a business or institution views as scrap is probably worth something to somebody. However, we can't blame the owners of the equipment for not knowing if their assets are reusable or not and who would be interested in purchasing it.
At Filmar Technologies we have been promoting the reuse of computers and their components for many years. It takes experience and a well developed network to conduct a valuation of the IT assets and eventually find potential buyers who could be located in other countries. Sure, certain components can no longer be used to keep a business competitive, but there are always options to combine old and new. Just because two or three components have reached the end-of-life stage does not mean the entire unit should be scrapped.
IT Equipment Which Can Be Reused
LCD Monitors – Monitors have loads of hazardous materials which should not end up in a local landfill. Monitors can easily be resold to businesses like call centers.
Desktops – Hard drives, graphics cards, ram cards, power supplies and other components can be refurbished. After that they can be reused by the original owner or sold to another business.
Servers – They usually have components which can be reused.
Laptops – Can be resold as single units or taken apart. Huge demand for both options.
Computer Peripherals – Keyboards, mice, scanners, printers and more can be cleaned up and put back into circulation.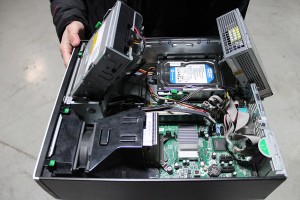 Companies and institutions such as banks, hospitals and schools should understand that they have an option to sell IT equipment and not just recycle. With a proper valuation by Filmar Technologies we can provide a detailed analysis for each type of IT equipment. There are buyers out there and we have the sales channels to make it a very smooth process.
Feel free to contact us and learn more about the Filmar Reuse Policy.