CANON EOS C100 CAMERA MOVIE BUNDLE
Phil Biundo
This CANON EOS C100 CAMERA MOVIE BUNDLE is definitely a curveball, but I thought I'd put it out there. Let me know if you're interested and I'll be more than happy to answer any questions or send more pictures. This is at Filmar Technologies and ready to ship. Let's make movie magic together.  Complete Lot – $1750.00 Buy it now or best offer.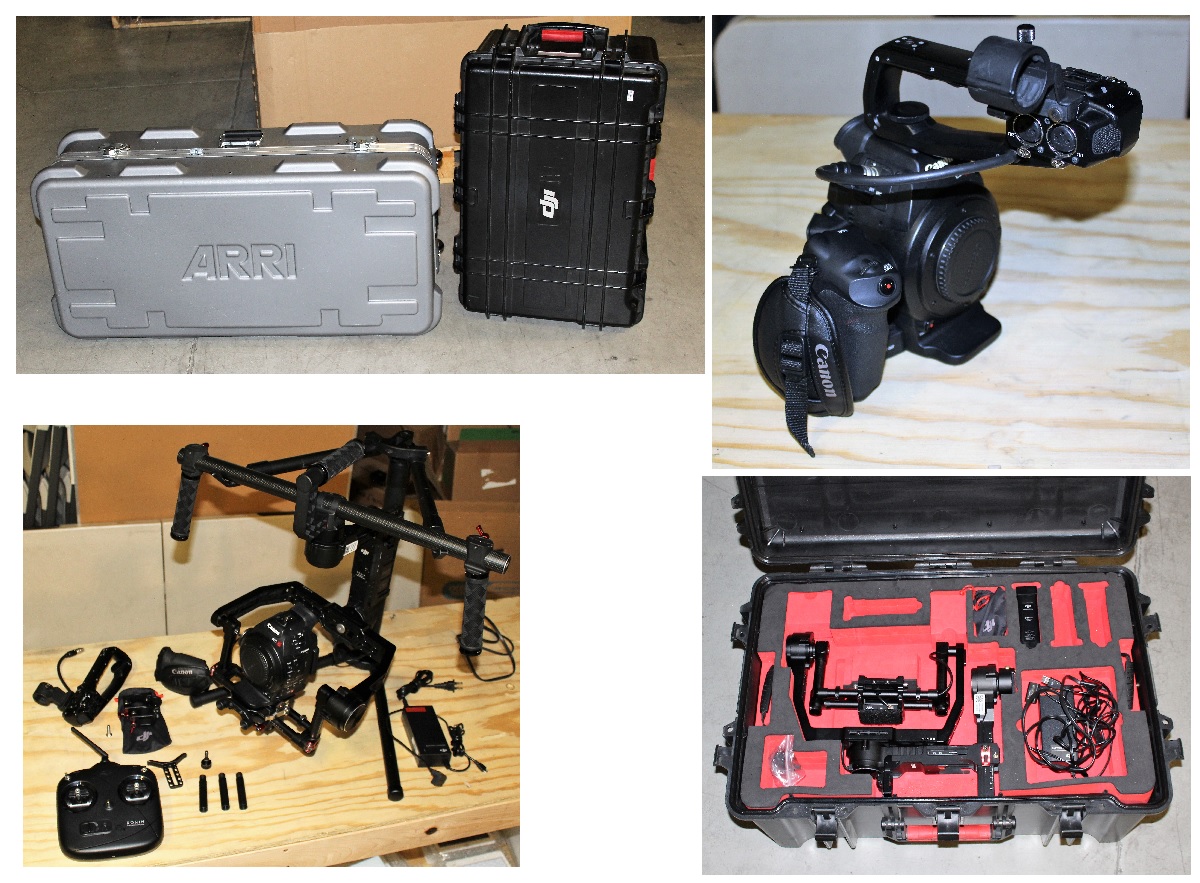 I am willing to work with you. Want them? Let's get this done. Ventas en Español para distribuidores : Sur America, Centro America y Europa
Canon EOS C100 Cinema EOS Camera with Dual Pixel CMOS AF–
BATTERY INCLUDED!! (included) 
     No Lens included
Super 35mm 8.3MP CMOS Sensor
1920×1080 60/50i, 24/25p, PF30, PF24
Dual Pixel CMOS AF Hardware Upgrade
EF Lens Mount
ISO 320 to 80,000
Uncompressed HDMI Output with Timecode
Canon Log and Wide DR Gamma
Dual SD/SDHC/SDXC Memory Card Slots
Two XLR Audio Connectors
Built-In ND Filters with Manual Controls
AC Adapter to power camera included
Battery Charger included.
DJI Ronin 3-Axis Stabilized Video Camera Gimbal (Black)
Supports a wide range of cameras and lens (up to 16 lbs.). Simple 5-minute setup & tool-free balance
The battery life is rated up to 4 hours. The Gimbal will hold up to 16-pound camera, so if you use a very heavy camera like this, the Gimbal motors must work very hard and battery life will be 1 hour or less. If you use light camera like EOS Rebel, battery life will be full 4 hours.
Built-in receiver and remote control available with Bluetooth via the DJI Assistant for iOS
3 operation modes for maximum flexibility
Dust and waterproof traveling case.
Remote Control Included – Takes 4 AA batteries (Batteries not included) (Antenna works, hinge action broken)
SEE PICTURES FOR INCLUDED PARTS
AJA HD/SD-SDI to HDMI Video and Audio Converter with DWP – 5V power adapter missing
SDI Input and Equalized Loop Output
HDMI 1.2 Output
8-Channel Embedded Audio Supported
2-Channel RCA for Separate Audio
ARRI AS-1 LIGHTWEIGHT 7.7FT BLACK LIGHT STAND WITH 5/8 MOUNTING STUD
Load Capacity:               9 lb / 4.1 kg
Mounting Opt:               5/8″ Stud
•             Max Working Ht:           8.5′ / 2.6 m
•             Min. Working Ht:           2.2′ / 0.1 m
•             Collapsed Height:           2.5′ / 0.8 m
•             Accepts Wheels:             No
•             Air Cushioned:                No
•             Detachable Base:             No
•             Leveling Leg:                  No
•             Reverse Legs:                  No
•             Finish:                              Black
•             Weight:                            3.0 lb / 1.4 kg
ARRI 571197 Heavy-duty Location Case
Fits Various Arri Lighting Kits
Hard Shell Plastic
Fixed Interior Dividers
Recessed Butterfly Latches
Spring-action Handles
Built-in Wheels
Complete Lot – $1750.00 Buy it now or best offer
Become a Filmar Reseller and get discounts on all our inventory. Sign up below https://filmar.com/become-reseller/
Details:
• Filmar 30 Day warranty
• Buyer pays Shipping
• Payment via wire transfer
• 3% PayPal Fees
• Sold on first come basis
How to contact us:
Call us @ 586-580-2524
Dial Extension 7 For Sales